Why violence breaks out after most African elections
Why violence breaks out after most African elections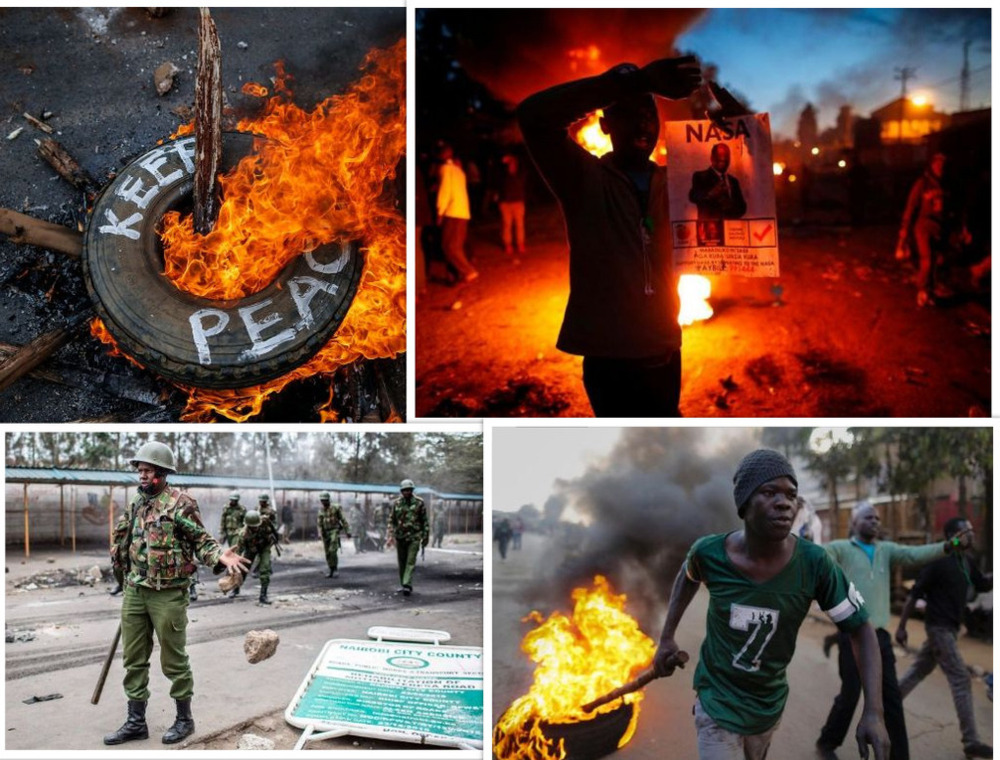 A 2005 study showed that developing countries tend to see more violence during or after elections. Africa has particularly observed several instances of election-time violence, including the Kenyan post election violence that happened in 2007 after former President Mwai Kibaki was declared the winner of the presidential election held on December 27, 2007. The 2015 Burundian unrest that was followed by a coup d'état attempt the same year following announcements that the incumbent President of Burundi, Pierre Nkurunziza, would run for a third term in the 2015 presidential election. The violence that broke in Congo during 2016 presidential elections and this 2017 a series of protests in Kenya after opposition leader Raila Odinga claimed "massive" fraud in 2017 presidential elections. And as a matter of facts this list is inexhaustive. Why are some elections violent, while most proceed without incident?
Excess crave for power
The strong hunger for power is a leading cause of election-time violence in Africa, this can be demonstrated by how opposition leaders hang on to "opposition power" for several decades and fail to train younger people to take over them and their "good intentions and ideas" examples of such opposition leaders are Raila Odinga of Kenya who have lasted in opposition for 10 years (2007-2017, 3 presidential elections) and John Fru Ndi of Cameroon who have stayed in opposition for 27 years (1990-2017, and willing to stand in 2018 elections) with nothing to show for.
The ruling parties themselves in their quest to "never" leave power come up with schemes to permit them remain in power for as long as they wish. We have examples in Zimbabwe where the President Robert Mugabe has remained in power for over 40 years and is not willing to quit, President of Rwanda Paul Kagame (though said to bring development) and many others including Cameroons Paul Biya whose governments have modified constitutions to prolong their stay. Such detestable behaviors are causes of serious rage hence a leading cause of election related violence when the results turn "unfavorable" in many cases.
Refusal to accept defeat
Unlike in many developed countries and a few African countries where leaders who fail to win elections peacefully accept defeat and step down or continue opposition democracy, like former president Goodluck Jonathan did after the 2015 presidential elections in Nigeria, we often see news headlines after many African elections indicating "opposition leader denies results" or "president … refuses to step down" an example of such an event is what happened in Gambia where former president Yahya Jammeh refused to quit office after being defeated by Ajama Barrow he later left after several thousands had been displaced in fear for violence.
Such refusal is never "empty" and always follows with a call for resistance which is also a leading cause of election violence the proof for this is that such violence are always kicked started or flourished mostly in "opposition areas."
Unclear election results that aren't credible
Even when elections seem to be going well the end results never look that good! Numbers are alarming, suspicious procedures which are long and non-transparent with some countries having a "wait-time" of more than 2-3 weeks just to declare elections results. This leaves a question mark in the minds of citizens and make them look upon such results as "not credible."
The One-Man system
Most African democracies are just about one man (the winner), all arms of government are apparently controlled by a single individual no proper division of power. No opposition ever seems to come from within any government body for example the parliament (Legislative arm) rejecting presidential "proposals" which for most cases are largely orders instead of proposals as expected in any normal presidential system.
In most cases there are no bodies in charge of questioning and scrutinizing the benefits and disadvantages of policy hence once a policy seems "fit" for its bearers it's implemented without careful observation of the possible adverse effects. When citizens (at least a good number of them) are under the rule of such a government and desperately expecting a change but are disappointed with election results, it's always a "good" reason for violence to prevail with excuses such as "we are tired"
Greed
Why is there so much crave for power? Or even refusal to accept defeat the most likely answer to this question is greed. This is mostly because "African politics" does not focus on systems or ideologies but are built around personal thoughts/interest and philosophies. Look at what happens in the united states for example, there are two main ideas driving the entire political atmosphere (Republican philosophy and Democrat philosophy) not individauls or a small number of people!
Similar Post You May Like
Electronic Voting Systems have been in use since 1964. ...

Al Jazeera, is a state-funded broadcaster in Doha, ...

This year and last has been a bumpy one for South Africa's ...