10 Biblical Principles on Money and Financial Prosperity
10 Biblical Principles on Money and Financial Prosperity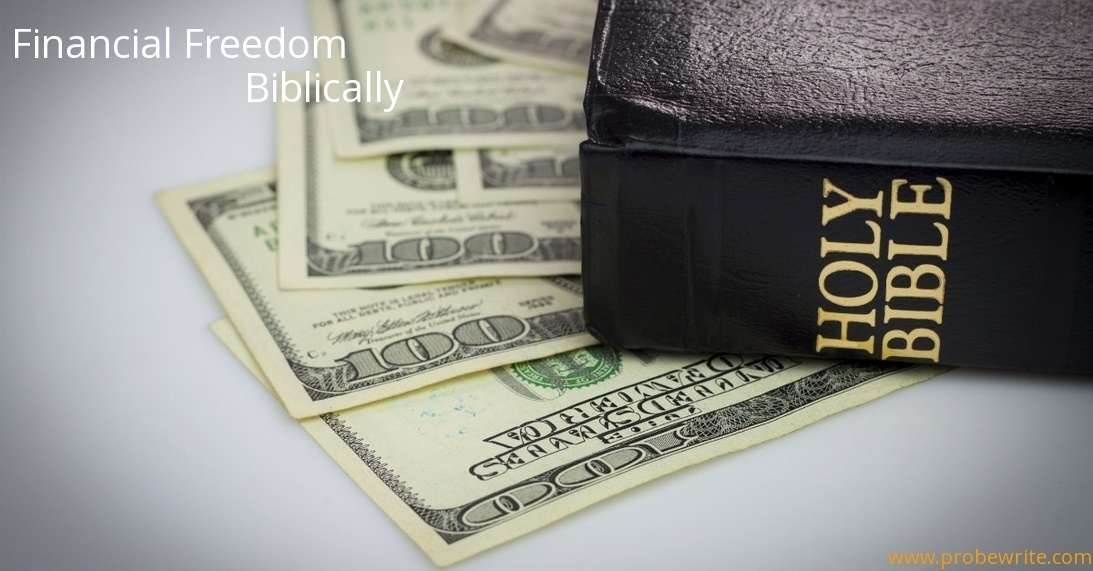 Contrary to popular opinion, Christianity or the bible is not a cover for lazy people. Despite the availability of Divine Favors God is no promoter of laziness and does not even like poverty himself so in his book he specified guidelines concerning certain things we must do to grow financially. For those who do not believe in what the bible says, I would say this is one of those times you need to disregard "the source" and check benefits instead as these principles are largely natural. I bring you 10 Biblical Principles on Money and Financial Prosperity.
1) Work
You got to be doing something! God needs a channel to bless you one of such channels is definitely what you do with your hands. No excuses go and work no manner!!
The LORD will open the heavens, the storehouse of his bounty, to send rain on your land in season and to bless all the work of your hands. You will lend to many nations but will borrow from none. Deutoronomy 28:12
Clearly the verse you just read reads, he will bless the work of your hands. No excuses go and work no manner!! In fact in Proverbs 6:10-12 and Proverbs 24: 33 the bible repeats a warning telling lovers of sleep (analogous to lazy people) how poverty will trample on them!
A little sleep, a little slumber,  a little folding of the hands to rest and poverty will come on you like a thief and scarcity like an armed man. Proverbs 6:10-12 (24:33)
2) Acquire Knowledge
It's widely said that Knowledge is power! To improve in whatever we do we need to acquire knowledge wealth is no exception.
And by knowledge the rooms are filled With all precious and pleasant riches. Proverbs 24:4 .
Again, Proverbs 4:7 tells us to get wisdom and above all get understanding 2 Timothy 2:10 also specifies that the only way a man can show himself approved is by studying.
3) Be Skilled and Diligent
You need to be skilled in whatever you do to be successful, the world itself has become so competitive that except you are extremely good, no one would notice you. It should also be no suprise that the very best in every sector are the people who dine with the mighty.
Do you see someone skilled in their work? They will serve before kings; they will not serve before officials of low rank. Proverbs 22: 29

Diligent hands will rule, but laziness ends in forced labor. Proverbs 12 : 24
4) Take Action
Talking, dreaming, wishing gets us no where! Work does! As someone seeking to prosper financially you need to learn how to execute plans! Bringing all what you are thinking to life, as we know "Action speaks louder than words".
In all toil there is profit, but mere talk tends only to poverty. Proverbs 14:23
5) Save
Saving is a difficult attitude to cultivate, we are always tempted to spend every dime we make regardless, but careful saving and planning is an attitude everyone wishing to gain financial freedom should develop.
He who gathers crops in summer is a prudent son, but he who sleeps during harvest is a disgraceful son.  Proverbs 10 : 5
6) Invest
Even though we are supposed to save, in wisdom, we are supposed to invest what we have (saved) as its more profitable.
In Mathew 25 from verse 14-30 Jesus shared an interesting parable on the 3 man who gave talents (Figuratively Money, Knowledge ...) to his servants according to their abilities. In the Parable the two men who invested their talent got double!! The man who failed and foolishly refused to invest his talented lost even the one he had.
7) Avoid Debt (Borrowing)
According to the bible, someone who borrows money is a slave to he that lends. Stay away from debt however possible! If you have been debt before then you would totally be able to picture what the bible is referring to.
The borrower is a slave to the lender. Proverbs 22:7
8) Maintain Integrity
People who are able to replicate thesame behavior irrespective of the situation can easily breed trust in orders. In the world today, people that can be trusted are highly sought to be in leading roles.
In everything set them an example by doing what is good. In your teaching show integrity, seriousness and soundness of speech that cannot be condemned, so that those who oppose you may be ashamed because they have nothing bad to say about us. Titus 2: 7- 8

The integrity of the upright guides them, but the unfaithful are destroyed by their duplicity. Proverbs 11:3
9) Give
Counter-intuitive to conventional logic, bible logic specifies that it is more profitable to give than to receive. The happiest people I know are generous people and the most miserable are misers. When we're generous, everybody wins. When we're stingy, everybody loses.
The generous will prosper; those who refresh others will themselves be refreshed. Proverbs 11:25
10) Be Positive and Optimistic. Think Big!
The most (financially) successful people in the world are positive thinkers. Their thoughts are always daring and scaring yet they always believe they can do it! You have God, you should practice this better!
For as he thinketh in his heart, so is he: Eat and drink, saith he to thee; but his heart is not with thee. Proverbs 23 : 7

I can do all things through Christ which strengtheneth me. Philippians 4 : 13

Finally, brethren, whatsoever things are true, whatsoever things are honest, whatsoever things are just, whatsoever things are pure, whatsoever things are lovely, whatsoever things are of good report; if there be any virtue, and if there be any praise, think on these things. Philippians 4:8
Above all don't give up, be consistent and remember what God says about our needs and wants in Mathew 6.
"Wherefore, if God so clothe the grass of the field, which to day is, and to morrow is cast into the oven, shall he not much more clothe you, O ye of little faith? Therefore take no thought, saying, What shall we eat? or, What shall we drink? or, Wherewithal shall we be clothed? (For after all these things do the Gentiles seek:) for your heavenly Father knoweth that ye have need of all these things. But seek ye first the kingdom of God, and his righteousness; and all these things shall be added unto you." Mathew 6: 30-33
Similar Post You May Like