10 lessons to learn from Donald Trump's campaign
10 lessons to learn from Donald Trump's campaign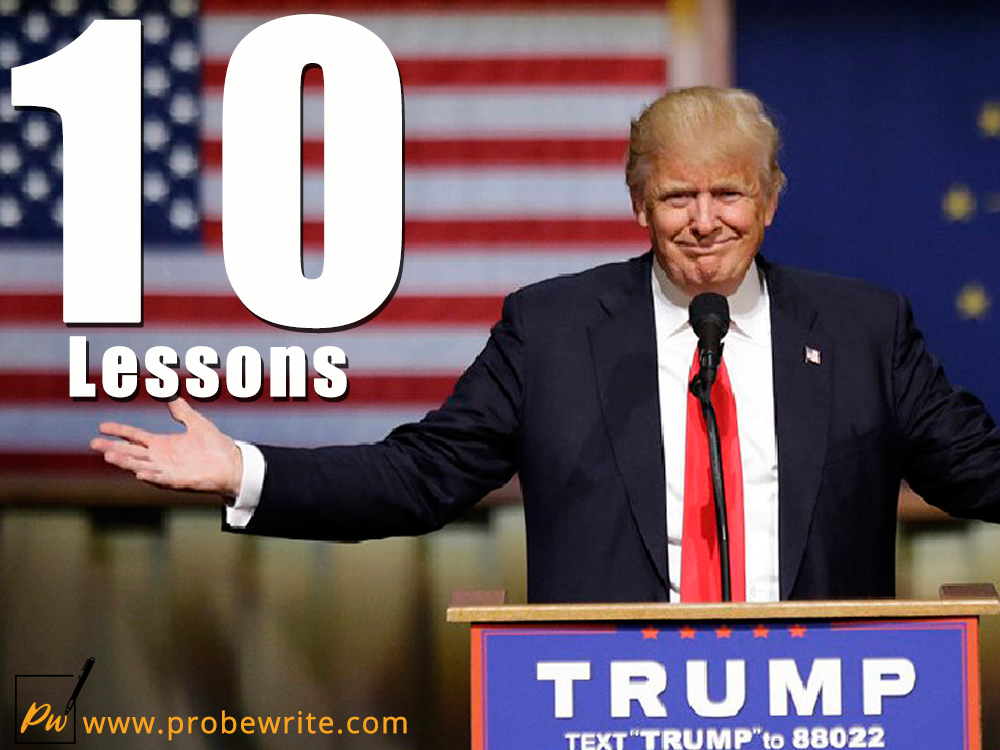 The 2016 presidential election in the United States was a "crazy" and historic one as Donald Trump the famous business man and media personality joined the game of politics! Despite all what came from it, there are several things to learn from Donald Trumps election campaign that eventually sought him a success! Here we go, 10 lessons to learn from Trumps election campaign!
1) Don't focus on the mistakes of others
By focusing on bringing other people down instead of bringing yourself up, you are wasting precious time (investment). During the 2016 American election Hilary's campaign was focused on 'Trump lacks the temperament and the political correctness' while trump was busy laying out his plans to 'make America great again.' Spend time on your own strengths and even weaknesses not that of others!
2) Not everyone will support you
Don't be scared to be different especially when you know where you are going to or what you are talking about! There are always people who support you fully in silence! I once voiced my very unconventional opinion in a WhatsApp group! While a lot of people where banging on me it felt like wow oh! No one thinks the same way. I was surprised the number of people who messaged me privately to tell me the love my way of thinking. This little action replicates in bigger scenarios don't be scared of being different.
3) Be unpredictable
In some sense its good if people can predict what you would do next! But its better when they can't because you keep them on their toes watching you! Be unpredictable!!
4) Do not count your eggs before they hatch
It's technically long to celebrate victories you have not won! Except you are religiously acting on faith but then in this context you should celebrate the results you see and forget them after that with hopes for bigger results! Don't throw a party because of a simple forecast results.
5) The Mass and the Media always have their own narrative
As someone trying to achieve something or as a leader you have to understand that you opinion could sometimes be "far-right" as that of Donald Trump was described. Must of that that not those who would create history don't align their thoughts with conventional ones!
6) Build enthusiasm
By building enthusiasm you help people connect with you! They might even unknowingly promote you because of this excited interest or eagerness! You won't imagine how much meme creators saved Donald on sarcastically advertising his wall project for him!
7) Be memorable
'Make America Great Again' vs 'Stronger Together' which leaves you with something to remember? When you are involved in anything as a leader just be memorable by being different!
8) Be consistent
Trump stayed on same message through out!, Maybe building the wall sounds crazy but he did not change it because you think it's crazy! Hilary switched messages and ended up without a clear message.
9) Let people underestimate you
When people underestimate they will know you are nothing to worry about, so that way they won't focus on you! That you have time to silently prepare a surprise party for them. No one would underestimate the power of the Trump empire in business, but in politics nearly everyone underestimated Trump and how inexperienced he is in the field.
The New York Times reported that Donald Trump is "Repeatedly underestimated as a court jester or silly showman, (but) Mr. Trump muscled his way into the Republican Elite by force of will."
At the end the inexperienced fellow got the job because his rival was not worried!
10) Even your enemies will show some respect for your success
CNN spent all it's time talking against Trump during the campaign period! After his victory the spent their time talking about his victory! Think of that!
Similar Post You May Like